WE SPECIALISE IN THE SUPPLY OF TOP QUALITY BOER GOAT SEMEN FROM OUR TOP STUD SIRES. WE CAN SUPPLY SEMEN FOR DOMESTIC BREEDING AND FOR EXPORT AROUND THE WORLD. OUR BUCKS ARE PERFORMANCE TESTED AND HAVE OUTSTANDING GENETICS IN THEIR BLOODLINES.
OUR STUD FOCUS IS ON PERFORMANCE OF OUR SIRES FOR PRODUCTION. WHILE WE SOMETIMES SHOW OUR BOERS WITH OUTSTANDING RESULTS, WE DO NOT SUPER FEED THEM. THEY ARE PADDOCK BORN AND RAISED UNDER GOOD COMMERCIAL CONDITIONS.
WE BREED FOR FAST GROWTH RATE, CORRECTNESS OF FRAME, LEGS, AND FEET. WE ALSO HAVE OUR ANIMALS ASSESSED FOR CORRECTNESS TO THE NATIONAL BREED STANDARDS.

PLEASE NOTE. THESE PHOTOS ARE NATURAL PHOTOS OF THE BUCKS DOING WHAT BUCKS DO. NEITHER THE GOATS OR THE PHOTOS HAVE BEEN TOUCHED IN ANY WAY.

SO ENJOY THE PICTURES AND INFORMATION WE HAVE PRESENTED HERE, AND PLEASE FEEL FREE TO ASK ANY QUESTIONS ABOUT OUR BREEDING AND SEMEN AVAILABILITY.

Cadenza Koos CA1FG0025 (below)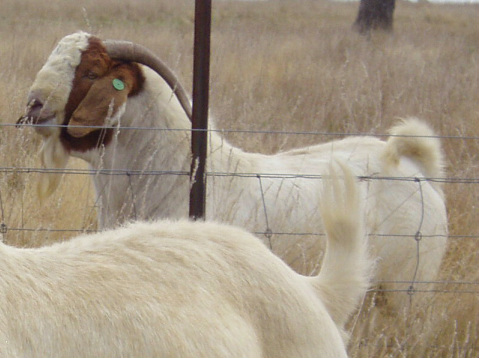 Cadenza Koos CA1FG0025. A beautifully bred son of Bart out of a wonderful Cadenza show does CA1FE00142
He shows remarkable bone and strength but also has the nicest nature.
We have used him at stud this year and we will have his kids on the ground within the next few weeks.
Semen now available for domestic sale only We are taking orders for international sales.


---


Cadenza Teddy. CA1FE0094. (below)
A wonderful son of Tony out of a most beautiful long and meaty doe CA1FY01o9 originating from the best of the Mericol Bloodlines.
He is our major sire for 2015 and we have semen from him for domestic and international sales. Limited number of straws available for domestic sales. Please order for International orders.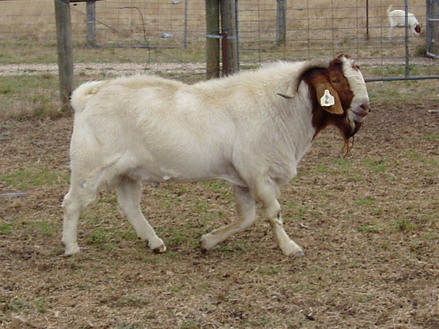 CADENZA BART CA1FF0006
Bart is the biggest and most robust of all our bucks. He is sired by Meggs, out of a really lovely correct Terraweena doe from the Karbo Lawrence bloodline. Absolutely correct in legs and feet and a great sire of big, tough, and hardy meat kids. His kids grow faster than any of the other bloodlines. SEMEN IS NOW AVAILABLE
---
Cadenza Hoss CA1FG0157 (see below)
Cadenza Hank CA1FH0101 (below)
Semen is now available from Rock, Hank and Harpo.
Cadenza Harpo CA1FH0088 (see below)
Cadenza Rock CA1FH0073 (see below)
WE ALSO HAVE SEMEN IN STORAGE FROM OUR OLDER BUCKS INCLUDING, THE FONZ, ROCKY, MCGREGORS WOODWARD, MCGREGORS DEPP, AMANI NOEL, CADENZA BARNEY. Some of this is in single straws, and some in three shot pellets. We also have a small number of pellets from the very famous buck Karbo Lawrence.