Visitors are welcome to visit the stud by appointment.
Give us a call on 0429661369, or email us at cadenzaboers@bigpond.com

The stud management


The show scene: nutrition v genetics.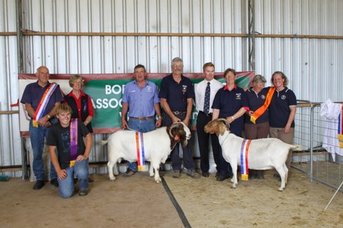 Showing is a chance to catch up with friends
We believe showing is a great way to promote studs and the breed. To be seriously successful at the shows, the goats must be fed heavily usually with high levels of grains, pellets, lucerne hay or similar, and often with other additives. The whole point of feeding like this is to show the animals at their full genetic potential. In other words this represents the best this animal can do given the best circumstances. Of course it is sensible to present the animals in this way, why would you show them not meeting their genetic potential? The best show breeders know how to do this extremely well.
You need to consider what type of animal suits your herd given the nutritional and management circumstances of your own property. What is most important to you? Fast growth rates, great feet that do not need trimming, great udders and milk, smaller hardier animals that eat less feed? In part this will depend on the end purpose of your goats. If you are targeting the prime kid market, you probably want them to grow out really fast. If you are on marginal country, this may not be so important, survival may be more important given the tough conditions. In wet country feet will probably be an issue.
While I have not seen the research to back up the statement, it is often written that nutrition makes up 80% of the productivity of Boer goats, and 20% relates to the genetics. So take care when you buy animals. There is no problem about buying show goats or heavily fed goats as long as that is the way you are going to keep them or you know how to "let them down" safely.
Showing is great fun and we encourage everyone to be involved as it is also a great way to learn. You will meet lots of friendly people who are terrific breeders, and also as in all show scenes, you will meet a few breeders with big voices but limited knowledge. That's the show scene, that's the fun. Give it a go.

---
More on nutrition v genetics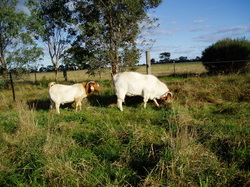 Feed advantage or genetic advantage?
These two bucks are from the same year drop. The buck in front is Cadenza Bart who has been shown and to some extent better fed than the buck behind (who is of a similar age). Could the obvious difference in size be only due to nutrition? The only way to really tell is to compare their kids and see whether one group of kids grows faster, bigger than the other.
The buck in front (Bart) is a son of Meggs, the buck behind is from another bloodline. The first group of kids this year is sired by Bart, so you can guess what I think!
---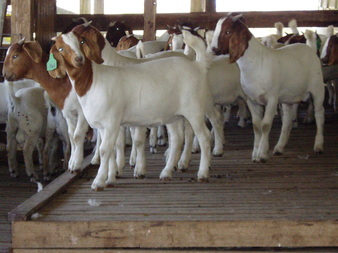 Young kids are carefully weaned with a minimum of stress.
Cadenza Boers is part of a Department of Primary Industries research program. The program is designed to monitor the productivity, management and survivability of Boer Goats in Victoria. The program is now in its third year. It includes, tracking growth rates of kids, investigating and autopsies on any goats that have died, monitoring of worms burdens, collecting data on pregnancies and kids born and general husbandry procedures. From weaning, kids are weighed every six weeks to track their growth rates and condition scores over the year. This is a very interesting area. The findings so far suggest that while the kids boom along in the warm months of the year, during the colder months and in particular for the bucks during the "rutting" season, their growth rate is much lower. What this means for the farm manager, is that great care needs to be taken to supply sufficient energy and shelter so the young animals do not start losing weight. Experience has shown me, that it is much easier to hold the condition of the goats with a little extra feed, rather than trying to get it back on after they have lost the condition.



---
Stud information

The notable goats at the stud.
Show successes for Cadenza 51 This doe was again successful being awarded Supreme Boer Goat at Berwick Show Sunday February 26 2012. Judged by Mr. Mal Morgan, this doe was awarded Grand Champion Doe, and then went on to beat the outstanding Ghin Ghin buck to take her place as Supreme Boer exhibit. See her photos in the Doe pages. Her full sister CA1FD0050 is no slouch either, and has produced the most beautiful doe kid sired by Ozzy. Picture of the kids soon. The dam of 50 and 51 is now 10 years old and is still suckling a full sister to Cadenza D50 and 51 (sired by Meggs). I have no doubt this new kid will be just as strong and correct as her full sisters.

Kids having fun - 2011 kidding

The kids from 2011. The kid drop was later than usual this year and this was intentional. There is always an issue of when to kid as it can be cold and windy during early spring and this means the kids are at significant risk to be chilled down before they get a drink of colostrum. Kidding started here in September and the last large group end of November. All kids are safely on the ground and approximately half the kids have now been weaned are in the kidplan system. Growth rate of the kids is an important component in the search for superior genetics.
Coming events. The yearling does and bucks have now been classified by Celia Burnett-Smith and selections taken place for the show team for the 2012 year. They have been run under good paddock conditions so all had the same chance. Pictures of the best will be presented in the Bucks and Does sections.
Combined stud production auction 2012. This was the 8th annual production sale held in conjunction with Winfield Boers. The sale is now over and congratulations to the buyers of Cadenza animals. Buyers were very discerning and it was pleasing to see they were willing to bid higher for for the better quality animals. Most of the Cadenza Boers for sale were yearlings and these had all been classified and also had Lambplan performance measures included on their information sheets. This requirement for performance measures, especially for the bucks, is an indication of an industry "coming of age". More about these measures in the later pages of the web-site.


---
The stud management
Carole Axton is the Stud Manager. Carole has been breeding goats for over 25 years commencing with stud Angoras and then Stud Boers when they were released from quarantine. She is an active member of the Boer Goat Breeders Association of Australia having served on the Federal and State Boards of the Association. Carole is currently the Stud representative for the Victorian Branch of the Association. Committed to training programs, objective and subjective assessment of animals, Carole also finds time to write articles and publications that deal with Boer Goat breeding and is involved in producing the Victorian Boer Goat Breeders newsletter. Many education programs have been held at the home of Cadenza Boers including, Breeders Workshops, Information and husbandry days, and Judges Schools. Carole is also a qualified judge assessed by the Boer Goat Breeders Association of Australia. When you purchase animals from this stud, you will be sure to receive excellent advice and after service.

Contact us if your would like more information or would like to visit the farm. 0429661369
email us at: cadenzaboers@bigpond.com