Cadenza Stud breeding does.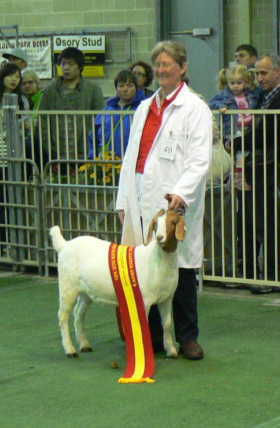 A Meggs daughter, Cadenza Maggie - Australian National Show 2010
Breeding does, Cadenza has a different approach. The does are raised together under paddock conditions for 12 months and then classified for breeding, sales, and showing. This is different to most studs who select potential kids at an early age and feed heavily to prepare for shows. This means these heavily fed kids have an unfair advantage when comparing their growth rates to their drop mates. Because the kids are raised together for 12 months and individual animals are not "pumped" for the shows, it is rare for this stud to show in the junior classes. However the benefits are that the best animals shine in the group because of "genetic advantage" and not "feed advantage". This is an important, but rarely considered point when choosing breeding animals for a herd and specially choosing a sire for the herd. When buying animals from a breeder, ask what the animals are being fed so you can consider whether it is similar to your management, and ask to see their siblings and relations. This will give a better idea of their genetic merit.

The doe above, Cadenza Maggie, was raised under paddock conditions with some supplementary feeding to prepare her for the National show. She now runs with her siblings in the the same way as all the breeding does at Cadenza and she will be a "mother" this year.
She is in kid to a young son of The Fonz (Cadenza CA1FF0092).
---
The Cadenza does are known for their strength, correctness and meat carrying capacity. While most have never seen the show ring, when they are shown they are very successful.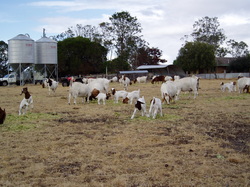 Does are bought closer to home when it is kidding time
The Cadenza stud does are supervised during the kidding period by bringing them to smaller sheltered paddocks close to the home area. This makes it easier to assist any does that require help during kidding (a very rare event) and also to protect newborn kids from the worst of any severe weather conditions. The does are fed high quality hay or feed cubes for two weeks prior to kidding, and then some supplementary feed during the high milking period. It is important that the does do not lose too much weight during this period as milk production will be affected and the does will need too long to return to a rising plane of nutrition for joining.
---
| | |
| --- | --- |
| Cadenza Does and the shows. | |
Sale show results 2010

Sale show is the Gippsland regional show. The organisers and competitors have a great time and it is a pleasure to attend.
Here is Cadenza CA1FZ0067 with her Grand Champion Doe ribbon, just being pipped by Ghin Ghin buck for Supreme Boer goat of the show.

---